Silk Creates Bespoke Online Experience for Iconic Regional Brands
Ring's End is an iconic building supply and home improvement company with 19 locations throughout Connecticut and New York. With over a century of experience delivering premium quality materials and services for professional builders, contractors, architects, and individual homeowners, the company takes pride in its unmatched product expertise and dedication to customer success. Ring's End's owner was keen to establish an online presence but was daunted by the complexity of the project. New to ecommerce, Ring's End didn't even have an RFP in place to solicit bids and assess their quality. It simply knew that the site would need to match the high-quality service Ring's End customers experience in store.
The owner's instincts were correct; designing a site to meet the company's custom needs would be a challenging endeavor. To begin, it would need to service two very distinct audiences: professional builders, painters, plumbers, and contractors, as well as homeowners who don't necessarily understand building products, and what they need in order to make them work. Complicating matters further, each department within the store has a unique buying experience. Buying exterior paint for a house has a very different set of requirements than buying PVC pipes for a plumbing upgrade.
With over 100,000 SKUs, including numerous custom items, the site's product catalog would need to integrate with Ring's End's proprietary ERP system, and support robust filtering and search capabilities so that users could find what they need quickly and easily. Omnichannel capabilities were also a must. Some items could easily be sent to the user's home or building site, but many contractors prefer to pick up their order on their way to a site, and some items are so large that they can't be delivered. The site would need to allow users to order online for pickup at a location of their choosing.
Additionally, Ring's End is more than a retail outlet. It's also a service company that can manage a customer's home improvement project as well as install windows, doors, and other items. The company's new site would need to convey these services.
Design was top criteria for Ring's End's management. The owner was eager for an elegant design, but many of the premium brands the store carries also have their own design criteria and requirements that the site would need to accommodate. As a new brand to ecommerce, the company lacked internal expertise in digital assets, copywriting for websites, and online marketing.
Lastly, because the site would require an immense number of customizations, Magento Commerce Cloud was the best ecommerce platform for Ring's End. Silk would support Ring's End's requirements for additional features and customizations that could not be completely met out-of-box.
ONSITE DISCOVERY AND PLANNING
The Silk team spent a week at Ring's End, meeting with every department in order to gain and document a complete understanding of each of its unique needs. Silk even helped Ring's End write an RFP. The result was three-phased project plan that led to Ring's End's successful digital transformation.
CUSTOM UX
Silk designed a site that serves the needs of Ring's End's B2B and B2C customers, with experiences customized to each segment. For instance, the Silk team created department-specific configurators to help customers purchase the right supplies in the right quantities.
HIGH END DESIGN AND COPY
Because Ring's End was new to digital, the company didn't have internal expertise in website design, digital asset development, or copywriting for the web. Silk designers created a site that met the owner's exacting standards, and its team of copywriters provided all needed copy and descriptions. Silk also provided the digital assets needed for online marketing campaigns.
SILK ENABLED RING'S END, A VERY SUCCESSFUL REGIONAL BUILDING SUPPLY AND HOME IMPROVEMENT BUSINESS, TO PLAN AND EXECUTE ITS COMPLETE DIGITAL TRANSFORMATION.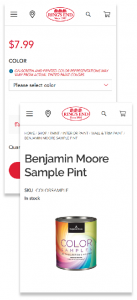 The Silk team helped Ring's End to write an RFP so that the company could understand the full scope of what was needed, and to solicit bids that would satisfy its complete set of requirements. Once selected, Silk launched a sophisticated discovery process, meeting with people from each department to understand and document their requirements. Careful attention was paid to gain a complete understanding of the shopping experience needed for each department. The team also helped Ring's End establish priorities for the rollout and created a three-phased project plan.
One of the first tasks was to integrate Ring's End's homegrown ERP and point-of-sale systems with its Magento Commerce platform in order to provide all customers with real-time inventory and real-time pricing data.
Because product or material may be critical to complete the next phase of a build project, Silk customized the omnichannel experience, allowing users to order online, select a specific Ring's End outlet, as well as identify a time to pick it up. The site notifies the appropriate store of the incoming order and sends a notification to the customer when it is ready for pickup. The omnichannel feature proved especially useful during the COVID-19 lockdowns. With a simple edit to the website copy, this feature was rebranded as curbside pickup, enabling the store to keep doing business while offering peace of mind to shoppers and employees alike.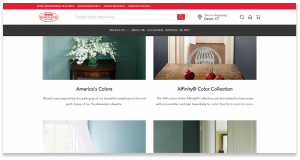 The first phase was the ecommerce portion of the site which would service Ring's End's B2C customers. This portion of the site required significant customization, offering many personalized tools and information to help customers understand the full requirements of their home improvement projects. For instance, Silk created a tool that helps users select an interior paint color and then recommend a specific brand and paint that meets their preference. Silk designers took care to accommodate all of the design requirements of the premium brands sold while also creating a distinctive brand for Ring's End. This phase of the project was completed in just four months.
Like the B2C site, the B2B site featured an onsite experience that was customized to each department, building multiple configurators to ensure that buyers purchased compatible products and in the right quantities — a critical service for busy contractors who'd rather not return to the store because they forgot something.
Because 70% of Ring's End business is B2B, the company wanted to ensure its professional customers were as successful using the site as they were purchasing in store. Silk met this need by creating a new customer onboarding process and training plan.
The third phase of the project focused on support for digital marketing, copywriting, SEO, SEM and a wide range of other marketing campaigns to drive traffic to the site. Because digital was new to Ring's End, Silk's marketing services were a vital part of the client's digital transformation.
Silk continues to provide ongoing managed services to Ring's End, working side by side with the company's ecommerce team.
The second phase was the B2B site, which required heavy customization of the Magento Commerce B2B feature set in order to meet Ring's End's needs. The Silk team could have built all of Ring's End features from scratch but opted to build on top of Magento's native feature set instead. The team wanted to ensure that Ring's End would always benefit from new Magento releases without abandoning the existing custom features.
SILK DESIGNED AND BUILT A B2B AND A B2C SITE ON A SINGLE INSTANCE OF MAGENTO COMMERCE CLOUD. COMPLETE WITH ROBUST FEATURES, CUSTOMIZATIONS, MARKETING SUPPORT, AND ONGOING MANAGED SERVICES SUPPORT, RING'S END CAN NOW DELIVER A FULLY OPTIMIZED ONLINE SHOPPING EXPERIENCE TO ITS CUSTOMERS.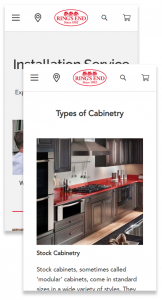 Ready to take your business to the next level? Let's get started.