CBDistillery Successfully Launches its CBD eCommerce Site on BigCommerce
As a BigCommerce Elite and Certified Agency Partner, our team at Silk was enlisted by CBDistillery to guide its site migration from WooCommerce to BigCommerce. CBDistillery needed a robust eCommerce solution to power its online sales and generate revenue for its business. The goal was to deliver one online storefront capable of handling both the company's direct-to-consumer and wholesale operations.
Looking to solve various problems with reliability, security, and overall performance on its existing site, CBDistillery identified a critical need to move to an alternative platform with the right features and tools required to support its business. Wanting worry-free server maintenance and supported shipping and payment methods, CBDistillery needed an eCommerce platform it could rely on to support its growth.
On its existing platform, CBDistillery found it was difficult to make product updates and there were potential security loopholes with its current site that could leave it vulnerable. Its own tech team was also responsible for fixing the server, which CBDistillery was looking to move away from having to manage due to site performance concerns. Deciding to make the move from WooCommerce to BigCommerce, CBDistillery was ready to get to market quickly with a fast and reliable eCommerce solution.
SEO AND CONTENT
Conduct messaging and marketing efforts while being mindful of the different restrictions and rules surrounding CBD. To maximize CBDistillery's marketing efforts and engage with online shoppers, curating internal content and paying close attention to search engine optimization was important for driving traffic to the site.
HOSTED SAAS SOLUTION
Migrate to a new platform and use a hosted SaaS solution with BigCommerce. CBDistillery now has the multiple layers of security, bandwidth, and fast speeds it needs for its CBD site and can focus on building its brand, rather than spending resources on monitoring and maintaining site security and compliance.
SEAMLESS INTEGRATION
Create a smooth integration with existing 3rd party plugins and apps. Working with Ordergroove to manage recurring orders and Yotpo and Swell for reviews, referrals, and reward programs, Silk made sure all the data from the different marketing platforms was properly mapped and integrated onto CBDistillery's new site.
SINCE MAKING THE MOVE TO BIGCOMMERCE, CBDISTILLERY HAS EXPERIENCED A HIGH CONVERSION RATE AND TRAFFIC WITH OVER 20K ORDERS A MONTH. THE COMPANY NO LONGER HAS TO WORRY ABOUT MAINTAINING ITS OWN SERVERS OR THE SITE UNEXPECTEDLY GOING DOWN.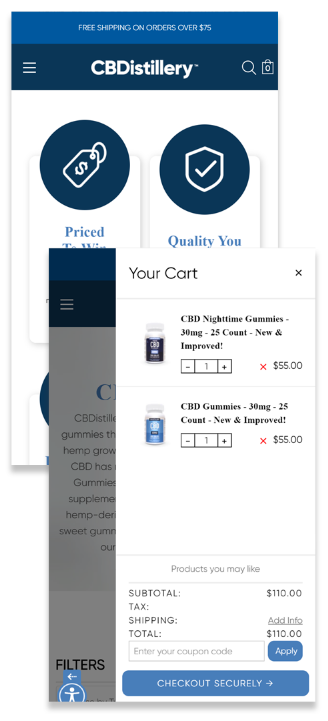 The Silk team got to work tackling the challenge of bringing CBDistillery's new site online. Taking into consideration the data imports, 3rd party applications, subscription, payment, shipping, and CMS components needed for the site in conjunction with the different legalities and rules surrounding the CBD industry, we worked closely with the BigCommerce platform to successfully develop the site.
We first began with designing the critical path for migration. After understanding the architecture of CBDistillery's existing site and determining the necessities that needed to be carried over to the BigCommerce platform, our developers put together a clear platform migration plan. It was decided that WordPress would be kept for the blog to maintain its SEO, but all other eCommerce components would be migrated over to BigCommerce. Maximizing the capabilities of both platforms, blog content would be managed on WordPress and eCommerce would be managed on BigCommerce.
A key deciding factor for CBDistillery to select BigCommerce as its platform of choice to sell its CBD products online was the suite of tools available on the platform to support merchants in this industry. Utilizing customer groups and tier pricing features in addition to BC shipping and square payments, our developers set up the stable environment on BigCommerce for CBDistillery to manage its optimized CBD store.
Utilizing BC's data sync, we synced over all the customer and order history so that users could retrieve data on past orders. Properly mapping all the product data was also important for an accurate import. A reverse proxy was used to maintain the same site links and ensure the smooth flow of network traffic. We used BC shipping as a category-agnostic solution to help get CBD products in the hands of customers and implemented a trusted payment gateway on BigCommerce that accepts hemp and CBD transactions without additional penalties, reserves, or fees. Ensuring the smooth integration of existing 3rd party plugins and apps was another key part of the implementation.
After an extensive round of testing, QA, and feedback, once all the required site elements were reviewed and thoroughly checked, we pushed the site live on BigCommerce to begin receiving orders and launch CBD's path to successfully selling online.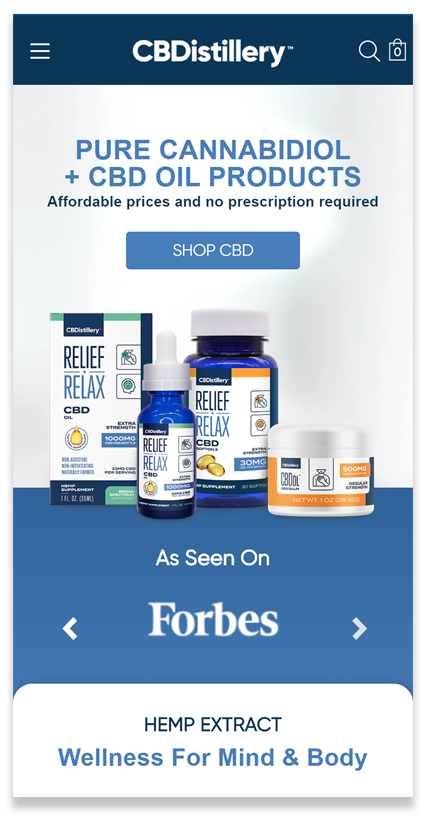 AS MORE SHOPPERS MOVE FROM PURCHASING CBD FROM BRICK-AND-MORTAR STORES TO SHOPPING ONLINE, CBDISTILLERY IS NOW FULLY EQUIPPED WITH THE FEATURES AND FUNCTIONALITY IT NEEDS TO SELL ITS CBD PRODUCTS ONLINE ON BIGCOMMERCE.
Following the positive reception and high conversion rate resulting from this initial site launch, the Silk team will continue to support CBDistillery in its future eCommerce endeavors.
Ready to take your business to the next level? Let's get started.