T&T Supermarket Delivers an All-in-One Shopping Experience with Rich Product Content and Personalized Online Grocery Ordering Capabilities
Founded in 1993, T&T Supermarket is Canada's largest Asian supermarket chain. With 27 locations across the country, T&T Supermarket provides its customers with a wide variety of Asian produce, meat, seafood, skincare products, home appliances, and other foods and necessities. Receiving an elevated demand for groceries and everyday essentials, T&T Supermarket sought to meet the high order volume of its consumers by launching a new eCommerce site and mobile APP to seamlessly facilitate online orders and improve the grocery buying experience.
Looking to deliver personalized and convenient shopping experiences that would allow customers to quickly find and receive their products in-store or from the comfort of their homes, T&T Supermarket needed a creative eCommerce retail solution filled with integrated features and compelling content. Turning to Silk to deliver the optimal solution, T&T Supermarket was ready to create a strong online presence, grow its business, and offer seamless online grocery ordering to its wide range of customers.
CUSTOM UI/UX DESIGN
To maximize the customer front-end shopping experience, all areas of the site including the home page, website header, website footer, website navigation, product detail pages, promotion pages, and special event pages are tailored for the T&T brand. Site design is optimized throughout the site with customized layouts and visual elements.
CREATIVE CONSULTING
Blending creativity with technology, Silk helps T&T Supermarket elevate its sales with engaging marketing and design strategies across the entire eCommerce site. From site layout and navigation to content creation, Silk provides ongoing consulting and managed services for T&T Supermarket to continue to boost its online presence.
ASSET CREATION AND COPYWRITING
Attracting new customers and generating online traffic through rich product copy and photography, each product is highlighted with custom content and engaging information. Special promotions, loyalty membership, and visually appealing tools also aid in product discovery and driving more online sales.
FROM DESCRIPTIVE COPYWRITING TO PRODUCT IMAGERY, UNIQUE AND CREATIVE CONTENT FOR T&T SUPERMARKET'S 5,000+ SKUS IS CREATED AND PRODUCED BY THE SILK TEAM WITH MULTIPLE LANGUAGES SUPPORTED.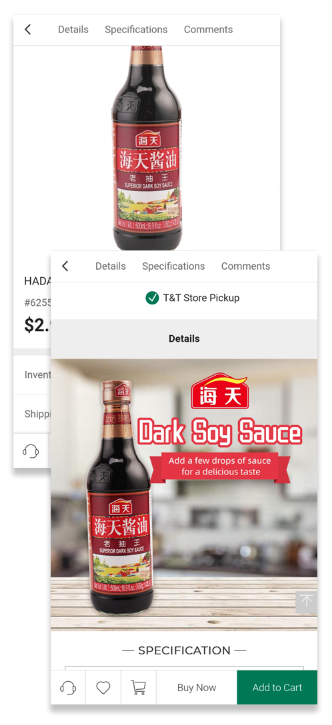 To deliver a robust online store capable of handling T&T Supermarket's tailored content and functionality requirements, the Silk team began with gaining a thorough understanding of the company's goals and business needs to put together the optimal eCommerce solution. After analyzing and defining the product data structure, reviewing all interfaces and integrations with other 3rd parties, as well as determining the full functionality to be implemented in this phase of the project, the Silk team got to work building out the website and mobile APP as well as creating the customized assets and copy.
On both desktop and mobile, T&T Supermarket has rich and responsive UI design for all areas of the site including the home page, website header, website footer, website navigation, product detail pages, promotion pages, and special event pages. Multiple languages including English, Traditional Chinese, and Simplified Chinese are fully supported on the site with customers able to easily switch between the languages. New content for over 5,000 SKUs was also produced and implemented to support T&T Supermarket's vast offerings and content needs. Ongoing asset creation and copywriting will continue to be created to support T&T Supermarket's growing product offerings post site launch.
A full integration was established for T&T's Loyalty Membership program. From registration and info management to points accumulation and redemption, this could now be easily be handled offline or online. 3rd party logon authorization was also established for WeChat and Facebook in addition to payment integration with WeChat Pay, Alipay, Union Pay, Apple Pay, and other payment providers.
Customers can review and provide product ratings and comments as well as place pre-orders for delivery online. Product search, filtering, social media sharing, promotion codes, repeat orders, live chat, and other convenient features were made available on the site to help improve the customers' online shopping experience. Back-end management tools were also implemented to assist with product content, promotions, and order handling.
Physical T&T Supermarket locations can utilize a robust in-store mobile application that helps customers search, order, and buy products in-store. Sales reps receive sales and reporting tools that allow them to better serve customers beyond traditional offline-only methods. With both delivery and buy online and pick up in store options, customers also have the flexibility to place and complete orders from the comfort and safety of their own home.
THE NEWLY LAUNCHED SITE CAN NOW SUPPORT OVER 200,000 USERS ON AVERAGE PER DAY WITH A PEAK OF 5,000,000 CONCURRENT PAGE VIEWS.
With a strategic implementation and timely launch, T&T Supermarket's new eCommerce site is fully equipped with the features and functionality needed for a seamless ordering and shopping experience. From multiple language displays and custom UI and UX design to rich product content and comprehensive pickup and delivery options, T&T Supermarket is experiencing widespread success with an exponential increase in online order volume. After a successful site launch, T&T Supermarket now fully supports online grocery shopping and can conveniently service customers in any way they wish to shop in-store or online.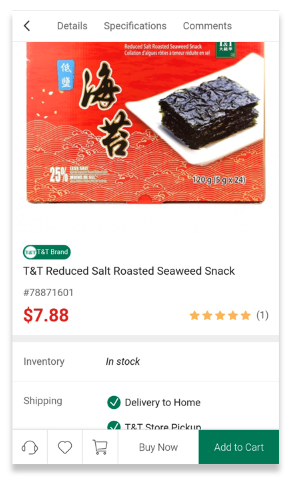 Ready to take your business to the next level? Let's get started.