NavePoint Transforms its Business Online After Migrating from Magento 1 to BigCommerce
Since 2008, NavePoint has offered high-quality networking equipment to its customers at value prices with exceptional service and free shipping. Aiming to increase site stability, make it easy for customers to find the products they want, and gain more control over the website experience, NavePoint was looking to migrate its Magento 1 site to a new eCommerce platform. With the sunset of the Magento 1 platform, it became clear to NavePoint that its current site could no longer support its growth and revenue objectives.
NavePoint's web team was particularly keen to adopt an eCommerce platform that would allow them to update their product pages and homepage header banner without the aid of a frontend developer. Website changes were a significant pain point for NavePoint, as the company updated product information fairly frequently and wanted to eliminate this bottleneck. Many of the product pages require instruction manuals, which the company wanted to make available as PDFs on the product detail pages. Additionally, with a large product set, NavePoint wanted to help its visitors find and purchase the products they need quickly and easily.
Turning to Elite BigCommerce Partner Silk for help in migrating its site from Magento 1, NavePoint identified BigCommerce as the best platform fit for its team to achieve its business goals and convert more sales.
PLATFORM MIGRATION
With a successful site migration from Magento 1 to BigCommerce, NavePoint's new storefront is seamlessly integrated with its back-end systems and provides NavePoint with the flexibility and functionality needed to convert more orders and easily manage its site.
CUSTOM SEARCH
Creating robust product filtering and adding subcategories to the product listing pages enables NavePoint site users to pinpoint the products they need quickly and easily.
PAGE BUILDER
NavePoint team members are empowered to update text, images, and other assets on the site without complex coding or requiring the help of a front-end developer.
TO IMPROVE THE ENTIRE SITE'S LOOK, FEEL, AND FUNCTIONALITY UPON MIGRATING FROM MAGENTO 1 TO BIGCOMMERCE, THE HOMEPAGE, PRODUCT LISTING PAGES, PRODUCT DISPLAY PAGES, AND STATIC CONTENT PAGES WERE ALL REDESIGNED. NAVEPOINT SUCCESSFULLY MIGRATED TO A NEW ECOMMERCE PLATFORM WITH A SITE AS BEAUTIFUL AS IT IS FUNCTIONAL.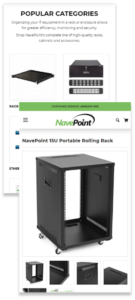 The overall objective was to create a single storefront for NavePoint that resides on BigCommerce, seamlessly integrates with its back-end systems, and enables the NavePoint team to educate customers on its products and convert more orders online. Silk's first task was to migrate the NavePoint site from Magento 1 to BigCommerce.
Leveraging BigCommerce allowed the NavePoint team to have an easier time updating their product pages and homepage header banner themselves, as opposed to engaging a frontend developer. This effectively resolved NavePoint's pain points regarding being able to make content changes on its own. For maximum usability, Silk integrated a third-party page builder, that was used to create all product detail pages as well as the static pages, such as the shipping policy page. The homepage itself was built in a way that would empower NavePoint's team to easily go in and quickly change the header banner and other assets whenever desired.
The Silk team leveraged BigCommerce's custom product fields to allow the NavePoint web team to insert PDFs of product manuals and other documents to the correct product pages. All files and images are stored in BigCommerce WebDav, which the NavePoint team can easily access.
To best help users find the products they need within the business's robust catalog, NavePoint needed to access more filters than what is natively supported out-of-the-box. To address this challenge, the Silk team integrated a third-party search tool that allows users to filter search results using many more values. Additionally, BigCommerce's product listing pages only show actual products, but NavePoint wanted to present its users with a series of subcategories. To meet this requirement, Silk also customized the product listing pages to include these fields.
Finally, the Silk design team redesigned the entire NavePoint website, creating multiple mockups for a new homepage, product details, product listing pages, as well as all static pages. The result is a website that is as beautiful as it is functional. The entire process, from initial design and customizations to roll out took less than five months.
FOLLOWING A SUCCESSFUL SITE MIGRATION TO BIGCOMMERCE, NAVEPOINT HAS REACHED ITS GOAL OF SELF-SUFFICIENCY. ITS TEAM MEMBERS ARE EMPOWERED TO EASILY UPDATE PRODUCT PAGES THEMSELVES AND SWAP OUT IMAGES AND COPY IN THE HOMEPAGE HEADER BANNER TO PROMOTE NEW PRODUCTS AND OFFERINGS THAT THEY WERE UNABLE TO ACHIEVE ON THE OLD SITE.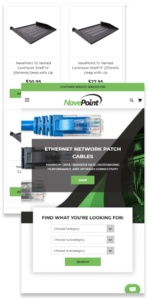 Ready to take your business to the next level? Let's get started.