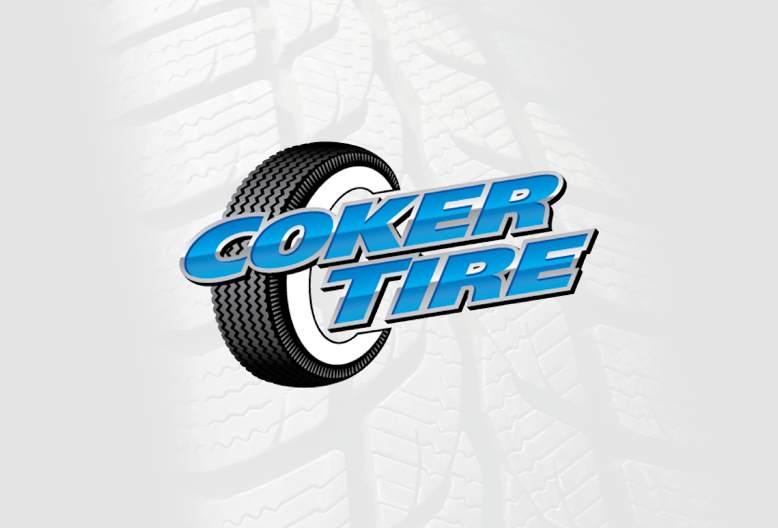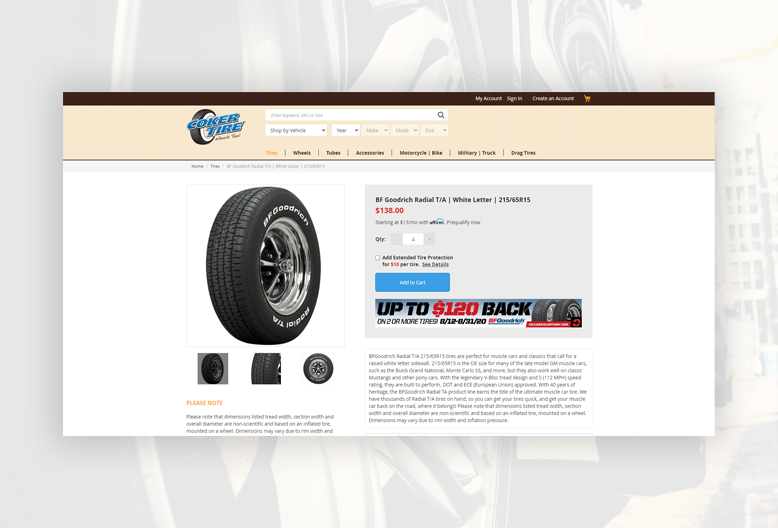 In Selecting a Company to Migrate its Site, Coker Tire Finds a Partner for Life in Silk
Since 1958, Coker Tire Company has supplied collector vehicle enthusiasts with premium tires, tubes, wheels, and accessories from brands such as Firestone, Michelin, U.S. Royal, and BFGoodrich. Enthusiasts of classic automobiles and motorcycles turn to Coker Tire when they need to replace the hubcaps or wire wheels on their rides. With Coker Tire's ecommerce platform, Magento Commerce 1, sunsetting, the retailer wanted to migrate to a new platform well before the actual M1 end date.
Like a lot of savvy market leaders, Coker Tire saw its migration as an opportunity to optimize its site in significant ways, especially around customer support and revenue development. While the company sells its products through eight independently owned distributors, selling directly to customers via an online channel would allow Coker Tire to build direct relationships with them and better respond to their needs. To meet these goals, Coker Tire wanted a partner that would take the time to understand its business and be as aggressive at trying new things as they were themselves. That's when they met Silk.

FAST MIGRATION
Coker Tire selected Silk to migrate its ecommerce site from Magento 1 to Magento 2. Silk completed the migration, including all the necessary integrations, in just three months.

SEAMLESS INTEGRATIONS
The Silk team fully integrated Coker Tire's Epicor P21 ERP system with Magento Commerce 2, enabling the company to leverage rich customer and product data to drive better online experiences for site visitors. Silk also integrated Affirm, a security company that provides SSL certificates to provide peace of mind to shoppers.

MANAGED SERVICES
The Coker Tire ecommerce team soon found that it couldn't live without leveraging the Silk team's deep expertise and quick turnaround. As a managed services client, Coker Tire works with the Silk team on a daily basis to enhance workflows and UX.
TO THE SILK TEAM, COKER TIRE QUICKLY PROVED TO BE AN IDEAL CLIENT, ONE WHO KNOWS ITS OWN BUSINESS WELL AND IS WILLING TO AGGRESSIVELY OPTIMIZE ITS SITE. BY QUICKLY RESPONDING TO AND IMPLEMENTING EVERY REQUEST, SILK HELPED COKER TIRE MAXIMIZE ITS ECOMMERCE BUSINESS.
As experienced implementers of Magento Commerce, Silk was the perfect partner to migrate Coker Tire's site from Magento 1 to Magento 2. Silk's methodology begins with a comprehensive process to understand the customer's unique challenges, and to thoroughly document their needs. This consultative approach was a good fit for Coker Tire, who wanted to rethink all of its frontend and backend workflows in order to drive its business forward. Silk completed Coker Tire's migration from Magento Commerce 1 to Magento Commerce 2 in just three months.
With over 38 brands and numerous styles in its product catalog, a flawless integration between Magento Commerce 2 and Coker Tire's Epicor P21 ERP system was essential. The ERP system is rather robust, and Coker Tire asked the Silk team to work directly with Epicor to determine which data elements could improve its customers' online experience. For instance, Epicor offers dashboards to help users better understand their customers as well identify those who are at risk for attrition. This is a process that continues today.
Silk also implemented Affirm, a security company that provides SSL certificates to prove the web server's identity to visitors and encrypts credit card and personal data that is entered into the Coker Tire ecommerce site.
The Coker Tire ecommerce team quickly realized that the level of support it received from Silk during the implementation process would be vital to its ongoing success and opted to become a managed services client. Today, the Silk team is always on call for any development or support tasks required. For instance, Silk has explored and implemented ways to streamline the front end so that visitors can navigate the site more quickly, as well as improve site performance. The team also liaises with other technology partners on behalf of Coker Tire.
As a result of the migration to Magento Commerce 2, the myriad optimizations to improve performance, and the close working relationship with the Silk Team, Coker Tire's online sales have grown, and now represent an important part of the business.
THE STRONG RELATIONSHIP BETWEEN COKER TIRE AND SILK HAS ALLOWED THE TWO COMPANIES TO MEASURABLY IMPROVE COKER TIRE'S ECOMMERCE BUSINESS. THE SILK TEAM CONTINUOUSLY SUPPORTS COKER TIRE'S AGGRESSIVE PUSH TO BUILD ITS BUSINESS, AND THERE IS NEVER ANY DOWNTIME OR NON-UTILIZATION OF MANAGED SERVICE HOURS. THE CONSTANT INTERACTION MAKES COKER TIRE A STAR CLIENT TO SILK AND DEMONSTRATES THE REAL VALUE THAT CAN BE OBTAINED WHEN CLIENTS THINK OF SILK AS A PARTNER IN ITS SUCCESS AND NOT JUST A VENDOR.
Ready to take your business to the next level? Let's get started.