New Platform, New Opportunity to Wow Customers and Reach New Heights for Excellence
Founded in 1995, DITA is an international luxury eyewear manufacturer whose style transcends conventions, creating a unique line of products that range from bold character frames to new interpretations of timeless shapes. DITA's partnership with Silk began with the launch of its original ecommerce sites, one for the US and the other for international customers, both of which were on the same Magento 1 instance. Although the DITA ecommerce team is extremely talented and capable of running much of the business independently, they need a trusted partner to troubleshoot third-party integrations, develop new features as needed, provide advice and research on new functionality, and step in when the components of a campaign or marketing initiative fail to mesh.
With Magento 1 end of life quickly approaching, DITA asked the Silk team to manage its migration to Magento 2, as well as build additional functionality to the site to enhance the customer experience. Eyewear sales require a heavy use of graphics, and the brand was keen to ensure its pages loaded at lightning speed so as not to inconvenience its visitors. With a multinational customer base, DITA also wanted to present each user with prices in his or her local currency, along with relevant shipping options. And because DITA sells premium products, the brand wanted to offer its visitors flexible payment options, including lay-away. Finally, the DITA team had a vision for a user experience in which site visitors can explore product options without navigating to multiple pages.
Enhanced Performance
Page load time is a make-or-break factor in eyewear sales. DITA wanted page load improvements that go beyond Magento 2's performance enhancements so as not to lose the customer.
Custom UX
With an international customer base, DITA wanted all visitors to see prices in their local currency, local shipping options, a streamlined checkout, along with enhanced filtering to allow visitors to select multiple styles, colors and sizes of products directly from the home page.
Right Hand Man
Silk's Managed Services provide the DITA ecommerce team with timely troubleshooting, feature development, research and any other skill they may need to ensure business continuity.
Silk's Managed Services team acts as a trusted right-hand man for DITA's talented ecommerce team, stepping in as needed to troubleshoot integrations, build new functionality, and provide any ad hoc skills the DITA team may need for a project.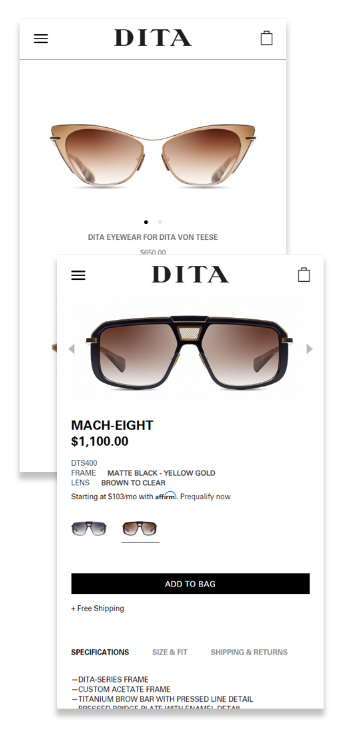 Silk migrated the two DITA.com sites from Magento 1 to Magento 2, ensuring that all of the features and functionality the brand wanted to keep worked perfectly on the new platform. To save time and expense, the Silk team leveraged Magento 2 out-of-the-box functionality whenever possible. We also integrated DITA's SAP ERP system with the new Magento 2 platform.
To improve the overall customer experience, the Silk team integrated three third-party platforms to DITA's Magento 2 platform. The first is Flow.io, a solution that streamlines global ecommerce and offers localized browsing and pricing, local payment options, direct international shipping, among other features. Silk also integrated Bolt, an all-in-one payment platform that simplifies the checkout process and comes with such strong security measures that the company backs up with a zero-fraud guarantee. The third integration is with Affirm, a platform that allows consumers to pay for products over time.
The Silk team also created an enhanced product filtering system to deliver on DITA's vision of an exceptional customer experience. When visitors click on any element on the homepage the site automatically filters and populates available colors, styles, sizes and related products to the element selected, eliminating the need to navigate to multiple pages in order to explore DITA's many product options.
Lastly, the Silk Team went above and beyond Magento 2's performance enhancements, customizing the sites' pages so that each loads in less than a second, regardless of the number of graphics it may contain.
Through its integration of Flow.io, Bolt, and Affirm, Silk delivered on DITA's desire to provide maximum flexibility to its customers. Customers see prices reflected in their local currency, enjoy a streamlined checkout process, and can opt to pay over time.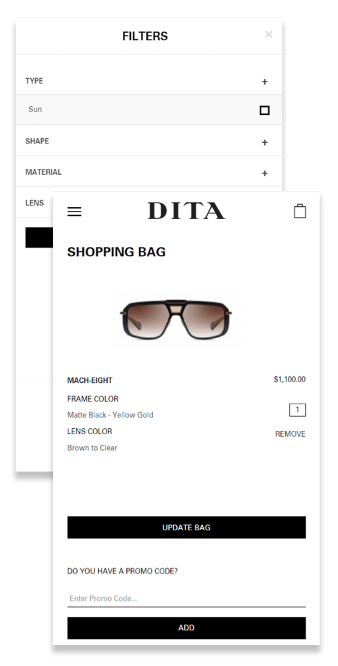 Ready to take your business to the next level? Let's get started.