Therafirm Migrates from Magento 1 to BigCommerce and Launches with a Best-In-Class B2B Solution
Knit-Rite, Inc. designs, markets, and manufactures innovative textiles that promote mobility, protection, and comfort for medical and consumer markets. It makes compression socks and hosiery for a wide variety of needs, such as coverings for amputees and products for children experiencing sensory processing differences. Knit-Rite has multiple consumer brands sold under four separate retail brands, along with a robust wholesale business (Therafirm), each of which requires its own ecommerce site.
For Therafirm, the company needed a robust B2B solution that would allow company account users to move through the checkout process faster, store multiple shipping addresses, view and track company orders, and more. After migrating all 5 sites, including the wholesale B2B site, from Magento 1 to BigCommerce and implementing advanced B2B features and functionality, Therafirm quickly saw success on the BigCommerce platform. Equipped with a full suite of B2B features, Therafirm's B2B wholesale site makes the purchasing process easier and quicker for B2B users with convenient self-service eCommerce functionality.
Quick Order
Users can find products by SKU or upload a product list via CSV file and add them directly to the cart without having to navigate throughout the site.
Corporate Account Management
Therafirm can easily manage corporate accounts where B2B customers can see their negotiated product pricing and preferred payment options when logged-in and accessing the site.
ERP Integration
Inventory, orders, customer data, and other pieces of information are seamlessly synced between the B2B site and Therafirm's ERP system.
From bulk ordering tools to company account management, the Therafirm wholesale site successfully launched alongside Knit-Rite's four retail sites with optimal B2B features.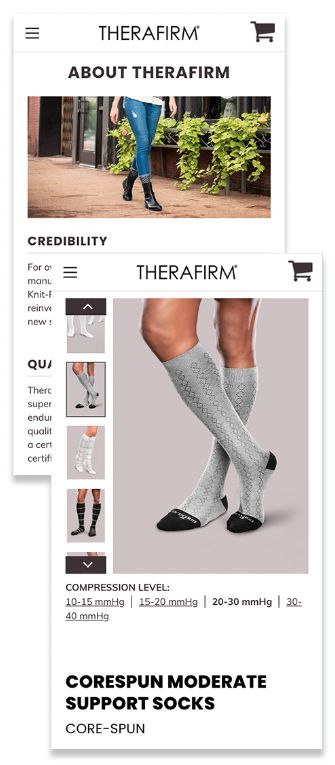 After successfully designing and launching Knit-Rite's 4 B2C sites on BigCommerce (knitritedirect.com), (therafirm.com), (preggers.com), (smartknit.com), the Silk team helped Therafirm launch its B2B wholesale site with individualized branding to support resellers. The text, images, and colors were all customized to match the brand's identity. A unique order grid allowing site visitors to order multiple products with different sizes, colors, and compression levels from the same product details page was also developed on the BigCommerce platform. This order grid lets site users select products based on multiple attributes. With various options to choose from and over 14 product combinations, this grid enables customers to add multiple product combinations to their order with ease.
Working closely with BigCommerce and B2B tech partners like BundleB2B to deliver an end-to-end and best-in-class B2B solution, Silk helped to deliver seamless transactions and self-service account capabilities for Therafirm. The wholesale site could set up corporate accounts and associate each logged-in user to them. This would allow B2B customers to see their negotiated product pricing and preferred payment options when accessing the site. For busy buyers to place their orders quickly, they could utilize a quick order pad and other bulk ordering tools. Users could then find products by SKU or upload a product list via CSV file and add them directly to the cart without having to navigate throughout the site. Buyers can also place new orders and quickly reorder products based on past purchases and company order history. Additional payment methods including purchase order were also established.
Silk incorporated a page builder app for BigCommerce that Therafirm could use to add and change banners and text easily. This would allow content updates to be made across the B2B site quickly and easily without requiring complex HTML or CSS. Our team also created saved elements out of the customized pieces so that they can be reused by Therafirm in other pages or when creating a new page. This would enable Therafirm to enjoy the ease of drag and drop along with the flexibility to use HTML/CSS if needed.
Therafirm had initially hired a third-party to integrate its ERP system to its new BigCommerce site, but shortly before the launch the company realized it didn't have the resources to complete the migration within Therafirm's required timeframe. Rather than delay the launch, the Silk team took over that part of the project and completed the migration quickly. This allowed inventory, orders, and customer data to be seamlessly synced between the B2B site and the company's ERP system.
Going live on time and on budget, Therafirm successfully launched its new B2B site on the BigCommerce platform. After a successful migration from Magento 1 to BigCommerce, Therafirm could avoid risks that staying on Magento 1 could bring. With automatic PCI compliance and fraud protection, Therafirm stays fully protected. Equipped with a complete B2B commerce solution, Therafirm can now enable its customers to go through the purchasing process with ease and purchase products faster than ever before.
Since launching, the Therafirm wholesale site has achieved a steady influx of orders. With thousands of online orders processed and products sold, Therafirm has seen an increase in online sales revenue.
Ready to take your business to the next level? Let's get started.