New Site King's Hawaiian Is a Launch Pad for New Products & a Beacon for People in Search of Tasty Recipes for Dinner
King's Hawaiian is a Los Angeles-based family-owned and operated bakery, acclaimed for its Hawaiian breads and other specialties. Robert Taira founded the brand in Hilo, Hawaii in the late 1950s, but by the 1970s demand for his breads had grown so strong that he decided to move company headquarters to the mainland. Today, King's Hawaiian has two factories producing a variety of breads and rolls that are sold in grocery stores nationwide. To loyal King's Hawaiian fans, the brand's tasty breads are just part of the attraction. Fans look to King's Hawaiian's collection of recipes for inspiration. Dishes like its ham and cheese Florentine bake offer a quick, easy, and highly satisfying dinner.
The brand relied on a corporate website to distribute its recipes, and an ecommerce site to introduce new products to customers. It was a highly fragmented experience for both King's Hawaiian and its customers. The sites, built on a proprietary platform, were difficult for employees to update. Adding to the complexity, a single order can contain products that require multiple shipping methods. Bread products can easily be shipped ground, but more perishable ones require overnight shipping with dry ice.
Migration to BigCommerce
The Silk team helped King's Hawaiian migrate and consolidate its two websites to BigCommerce, providing a cohesive experience to visitors and making it easy for team members to update site content.
Custom BigCommerce Recipes APP
Silk created a standalone app in BigCommerce for storing and managing recipes, enabling team members to add recipes, images, and video, and to create new categories quickly and easily.
Fulfillment
The Silk team created a new fulfillment system for King's Hawaiian, integrating ShipperHQ to present shoppers with accurate shipping rates, and integrating ShipStation to full orders on the backend. Silk also customized the shopping cart to split orders when necessary.
By merging the corporate website and ecommerce store onto a single instance of BigCommerce, King's Hawaiian delivers a cohesive customer experience and streamlines workflows for its marketing team.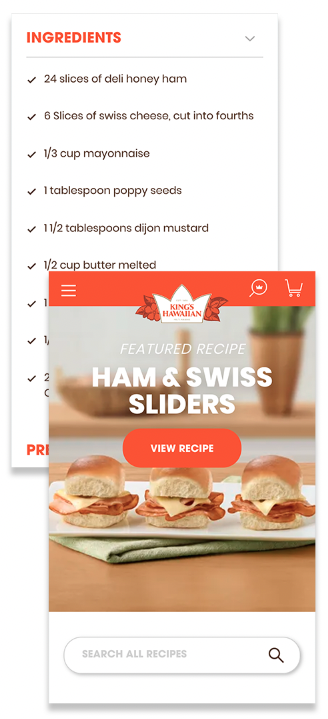 King's Hawaiian asked Silk to build a new site that can answer all the use cases the brand wanted its digital property to serve, including:
Streamline the workflow for its team members, so they can easily add new products and recipes to support the business
Attract new customers to the brand via its collection of recipes
Promote and sell new products as a market test before shipping to stores
Highlight and sell other emerging Hawaiian brands.
Silk began by migrating both proprietary sites to BigCommerce so that team members can take advantage of all the content management services the ecommerce platform provides out of the box. The consolidation meant that team members no longer needed to cross link content between the two sites, which was time consuming and resulted in a disjointed experience for visitors.
BigCommerce offers a drag-and-drop visual editing tool, enabling the King's Hawaiian team to create new product pages or edit existing ones without changing any code. Today, team members can add new products, either developed by King's Hawaiian or from one of its partners, with ease.
Silk also built a full-featured ecommerce store, with important customizations. The team integrated the new site with ShipperHQ, a shipping logistics plug-in that presents shoppers with accurate shipping costs, and to create a shipping strategy based on real-world business logic.
King's Hawaiian needed additional shipping customizations to support its unique product line. Some products can be shipped at room temperature, while others require overnight shipping in dry ice in order to remain frozen. Silk enabled the King's Hawaiian to split the shopping cart based on items in the basket, shipping the frozen products overnight, while sending the others through regular delivery.
Silk also integrated ShipStation into the backend of the new site in order to fulfill online orders. ShipStation supports delivery via USPS, FedEx, UPS, DHL as well other carriers, providing King's Hawaiian the flexibility it needs for just-in-time delivery.
The most exciting development for the King's Hawaiian team, however, is the recipes app. Recipes are a major marketing strategy for the brand, and the company often partners with celebrity chefs to create them. The recipes have significant SEO value for King's Hawaiian, and through the years have brought new customers to the brand. But managing them wasn't an easy task. To address this challenge, Silk built a standalone BigCommerce app that allows team members to create, edit, sort and categorize recipes with ease. They can also add images and videos by accessing a template.
Silk completed its work in about 8 months, enabling King's Hawaiian to start reaping the benefits of its investments in less than a year.
King's Hawaiian's new website accomplishes multiple goals for the brand, enabling it to take the company and its business to a whole new level, and show the world that Hawaiian cuisine deserves a place on every food enthusiast's plate.
Ready to take your business to the next level? Let's get started.