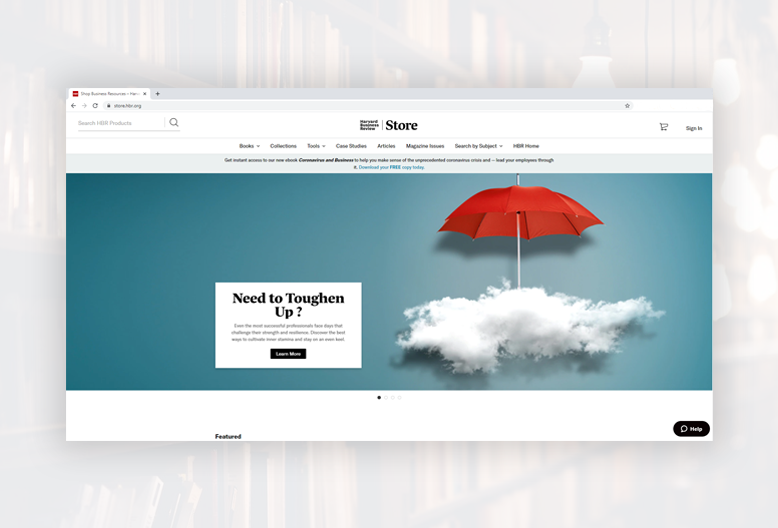 Harvard Business Review Achieves Optimal Headless Commerce Solution with BigCommerce
FOUNDED IN 1922, Harvard Business Review(HBR) is the leading destination for smart management thinking worldwide, providing professionals with best practices and insights to lead themselves and their organizations more effectively. From a retail perspective, their site allows customers to purchase digital content (ex: articles and cases) as well as physical items (ex:books). Looking for more flexibility in the types of services it can offer to customers as far as merchandising, promotions, discounts, and search are concerned, the Harvard Business Review Group wanted to migrate the store side of their site to be managed on the best eCommerce platform for their needs. As decoupled and headless commerce solutions become increasingly popular for marketers to deliver dynamic content across many devices, HBR fully understood the need to deliver a seamless connection across different platforms and create a unique online experience for their customers. They turned to Silk to architect a headless eCommerce solution on the BigCommerce platform that would meet their specific store site requirements.

340,000+
Paid Circulation

$10+ MILLION / YEAR
Gross Merchandise Volume

7+ MILLION
Monthly unique online visitors
Working with two separate platforms, HBR needed to connect Adobe Experience Manager (AEM) with BigCommerce. With a single sign-on integration and a custom API to sync their content side (AEM) with their store side (BigCommerce), Silk expertly established a seamless connection between both websites. Using the frontend API to tell that someone is logged in, the navigation experience between HBR's store side and their content side left no discernible difference. Paired with a clean UI design with less distractions, this solution allowed users to more readily focus on their shopping experience and easily move through the site.
DISTINGUISHED WITH THE B2B EXCELLENCE AWARD FROM BIGCOMMERCE, SILK CONTINUES ITS AWARD-WINNING SUCCESS THROUGH DELIVERING HBR A POWERFUL HEADLESS COMMERCE SOLUTION WITH A FULL ADOBE EXPERIENCE MANAGER INTEGRATION.
Silk took the lead in spearheading the development of HBR's custom checkout and search experience while utilizing the BigCommerce Checkout SDK and BigCommerce APIs. The visibility of HBR's top branded series were improved by incorporating them within the store navigation dropdown and including them within the breadcrumbs on the PDPs. Users could now filter search results by series and see their results in either a grid or list view. A Quick View option was also added to the search result pages, allowing users to make faster evaluations on whether they've found the right product. In addition, customers could now see quantity list pricing reflected prior to checkout. BC custom fields were also used to import all of HBR's old order history.
WITHIN THE FIRST WEEK OF LAUNCHING ON BIGCOMMERCE, HBR ALREADY PROCESSED OVER 5,500 ORDERS AND HAS RECEIVED CONSTANT STREAMS OF REVENUE WITH A STABLE AND HIGH-PERFORMING STORE.
Overall, the success of the project was attributed to the full collaborative efforts between Silk, BigCommerce, and the HBR team. Utilizing the BigCommerce dashboard, HBR's eCommerce team was fully equipped with the ability to create promo codes, update banner messages, and perform other related actions without requiring outside support. By syncing HBR's store side with their content side, Silk helped HBR provide a seamless shopping experience for their customers while achieving the best features and workflow to better sell their products on the eCommerce platform. Leveraging this award-winning solution, the HBR team had the full flexibility and robust features needed to successfully manage their new online store.
Ready to take your business to the next level? Let's get started.