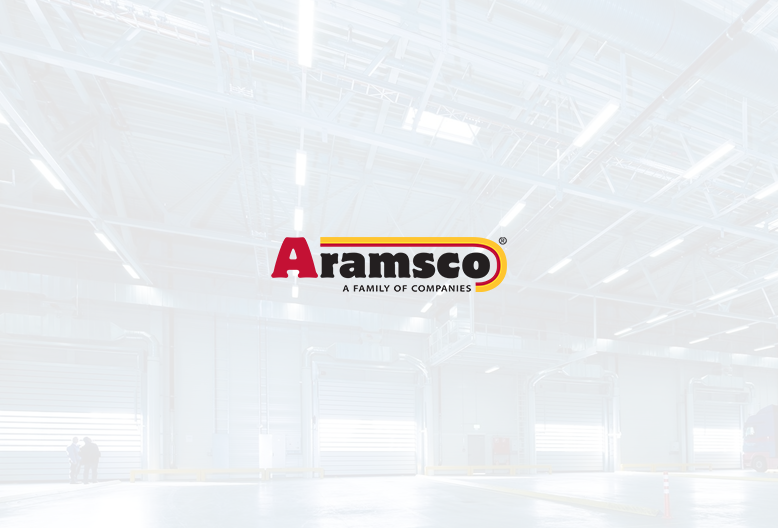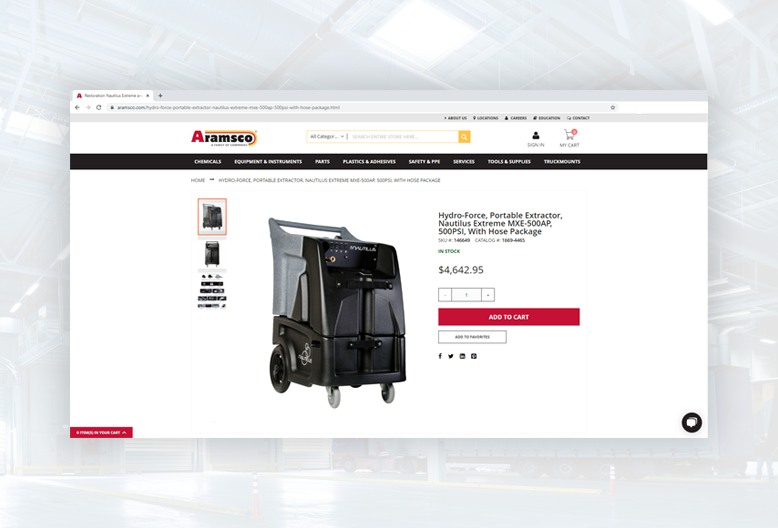 Aramsco Successfully Launches Multiple B2B E-Stores on Magento with Key Customizations
Founded in 1966, Aramsco is one of the nation's largest suppliers to contractors in environmental safety, disaster response, surface preparation, and restoration. With a portfolio of over 40,000 products, Aramsco equips specialty contractors and service professionals with the equipment, chemicals, and consumables they need to do their work. In addition to distributing products, the company also offers services including training and education, equipment rental, equipment repair, and equipment financing to best meet its customers' needs.
Needing a B2B solution that would integrate seamlessly with its Epicor ERP and support its overall digital commerce strategy, Aramsco turned to Silk to deliver the best solution for building multiple eStores and achieving its specific customization requirements. From handling hazmat and VOC product restrictions to managing freight and free freight qualifying products, Silk worked with Aramsco to successfully complete the required customizations and launch its multiple new B2B sites on the Magento platform.

HAZMAT PRODUCT RESTRICTIONS
Support additional Hazmat fees and restrict Hazmat products from being shipped through certain delivery options (ex: Air)

FREE-FREIGHT QUALIFYING (FFQ)
Identify certain products that qualify for free freight when a certain dollar amount threshold has been reached

ECLIPSE FREIGHT INTEGRATION
Directly pull proper freight rates as they are calculated in the ERP with weight and dimensions synced to Magento
To achieve Aramsco's requirements for launching multiple B2B sites, the Silk team got to work implementing the features and functionality the company needed for a successful deployment. This included various customizations and add-ons the company required to accomplish its specific needs.
WITH SMOOTH AND SUCCESSFUL SITE LAUNCHES FOR ITS DIFFERENT SUB BRANDS, ARAMSCO NOW HAS FULLY BRANDED ECOMMERCE SITES THAT WILL CONTINUE TO SUPPORT ITS LONG-TERM GROWTH AND ONLINE GOALS.
HAZMAT AND VOC PRODUCT RESTRICTIONS
ARAMSCO CAN IMPLEMENT SPECIFIC SHIPPING FEES AND RESTRICTIONS ON ITS PRODUCTS
Hazmat is flagged as an attribute at the part level in the ERP and syncs with Magento. A rule is built in Magento to support Hazmat restrictions for certain delivery options (ex: can't be shipped by Air) and apply any required Hazmat fees to the total price. VOC products are also flagged as an attribute at the part level in the ERP and synced up to Magento. A rule is built in Magento to restrict VOC products from being shipped to their respective restricted regions.
FREE-FREIGHT QUALIFYING (FFQ)
WHEN A CERTAIN DOLLAR AMOUNT THRESHOLD HAS BEEN REACHED, ARAMSCO CAN EASILY IDENTIFY PRODUCTS THAT QUALIFY FOR FREE FREIGHT
Certain products will contain an attribute for FFQ in the ERP and this attribute will be synced to Magento. If one part or multiple parts contain the FFQ attribute, then that part or those parts (within the checkout process) will not be part of the freight call to retrieve the freight rates if the dollar sum of the FFQ part(s) exceeds a certain dollar amount. The specific dollar amount can be managed in the backend of Magento.
ECLIPSE FREIGHT INTEGRATION
A DIRECT INTEGRATION IS ESTABLISHED BETWEEN ARAMSCO'S ERP AND MAGENTO
Magento will call Eclipse Web Integration API freight interface to pull freight rates as they are calculated in the ERP. This web integration will support providing the proper freight rates when Magento delivers weight and dimensions to the API.
FULLY EQUIPPED WITH KEY B2B CUSTOMIZATIONS AND CAPABILITIES, ARAMSCO HAS THE TOOLS IT NEEDS TO ACCELERATE ITS BUSINESS GROWTH AND SERVICE ITS CUSTOMERS ONLINE.
Through a successful implementation and utilizing best practice eCommerce strategies, Aramsco has multiple high-quality and fully integrated eStores for its various product lines. Silk looks forward to supporting Aramsco's ongoing growth as the company continues to innovate and provide advanced restoration, cleaning, surface preparation, asbestos and lead abatement, and environmental clean-up solutions to its clients nationwide.
Ready to take your business to the next level? Let's get started.