Pantone Launches its Color Authority on a Global Scale Across North America, Europe, and Asia
Over 10 million designers and producers around the world rely on Pantone products and services to help define, communicate, and control the colors used in their projects. The company's X-Rite technology allows customers to achieve color consistency across various materials and finishes. Pantone Standards feature digital and physical color specification and workflow tools. The types of people who visit Pantone's site are nearly as varied as the colors the company offers: designers of interiors, textiles, and digital assets, as well as manufacturers of cosmetics, laser printers, plastics, and coating to name just a few.
As a global company, Pantone hosted multiple sites in North America, Europe, the Middle East and Asia, each servicing customers in their local language and currency. The company was keen to simplify its operations, as maintaining multiple sites and managing the various software licenses for each website was time consuming and expensive.
Color is a complex business, and Pantone offered an equally complex product line designed to help its clients achieve color consistency throughout the entire inspiration, design, and execution process. Existing product pages lacked the information clients needed to make color decisions that were right for them. In addition, Pantone's SEO campaigns were not performing as well as hoped. The company needed a global eCommerce solution that could help it attract more clients and drive awareness of its brand and color authority around the world.
Headless Commerce/PWA
Leveraging cutting-edge headless commerce technology, Pantone's PWA storefront delivers superior speed and performance with the flexibility needed to enhance customer-facing elements quickly and drive better SEO campaign performance.
Global Expansion
With a global site deployment that supports multi-language and multi-currency across various countries around the world, Pantone has a cohesive website experience across all markets after consolidating multiple sites into a single instance of Magento Commerce Cloud.
UX Enhancements
To better educate visitors on Pantone's color system and enable them to find colors that are compatible with their applications, various enhancements across the site and to the product detail page were added, including a persistent floating cart button and informative icons.
Pantone's global websites, now consolidated under a single Magento commerce cloud instance, offer the tools and education its diverse customer base needs to make smart color decisions for their applications.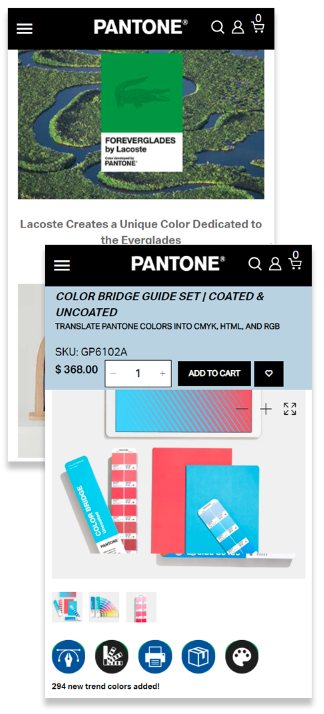 The first step was to migrate five of Pantone's international sites over to a single instance of Magento Commerce Cloud, a strategy that enabled the company to have just one set of licenses to handle and one backend to manage, maintain, and update as needed. The only exception was China, an important market for Pantone, which requires a separate instance, as Chinese law mandates that sites that sell to its citizens be hosted within its borders.
Equipped with Magento Commerce Cloud, Pantone could now use this highly flexible platform to support the level of customization needed to provide the complex color selection workflows used by site visitors. The Silk design team worked closely with Pantone's design team to improve the user interface so that each person who visited the site understood which color system was right for their needs. The designers developed a system of icons to indicate color systems for graphics, textiles, and coatings & pigments, along with sub-icons to indicate specific users (e.g. print, apparel, cosmetics). Visitors can read about the color system's structures under a Learn tab, and understand which colors apply to their needs going forward. Another key addition: the persistent shopping cart at the top of the screen, which makes it easy for customers to add items to their cart and provides quick access to the checkout workflow.
The Silk team deployed a headless commerce approach for Pantone, which allows the site managers to make changes to the visitor-facing assets on the site without touching any of the backend. This enabled the marketing team to quickly update content and other items on the front end, without the need for skilled developers to implement those types of changes. Built using progressive web application (PWA), Pantone can provide its visitors with an app-like experience, without the inconvenience of actually installing or updating an app regularly. PWA also improves site speed — a factor that has a direct impact on Google SEO rankings. Especially as Pantone looked to provide a localized experience across multiple markets, it was important to deliver superior speed and performance for its global rollout.
In just three months, Pantone's sites in North America, Europe, and the Middle East were migrated into a single instance of Magento Commerce Cloud. Each site meets the unique privacy and security requirements, language, currency, and shipping requirements of each local market. Its China site is also set to launch with all the localized requirements for that region.
The PWA approach speeds up the overall site performance, ensuring pages load very quickly to improve the overall experience for site visitors. The improved site performance also drives Pantone's SEO campaign performance, enabling the company to attract more qualified users to its brand.
Thanks to the headless commerce technology and PWA approach, Pantone's website and SEO performance have greatly improved.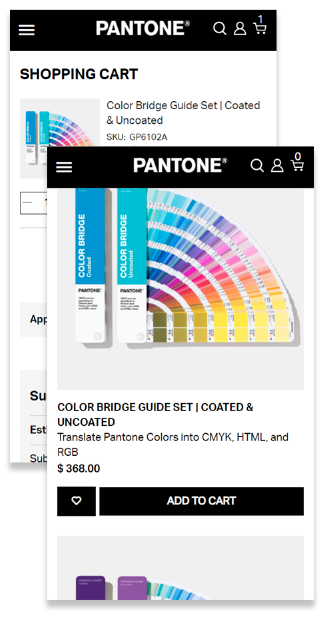 Ready to take your business to the next level? Let's get started.