Complete Pricing Transparency Leads to Happier E-Z Up Customers and Higher Average Order Value
Founded in 1983, E-Z UP provides easy-to-assemble outdoor shelters for consumers and for companies seeking to expand their business and create brand awareness at various outdoor events. In addition to its innovative line of portable instant shelters, the company offers a wide array of accessories, including sidewalls, rail skirts, tables, table covers, flags, banners, and more. E-Z UP has been very successful, attracting hundreds of thousands of customers in over 50 countries, but the pandemic brought a new wave of customers to the brand, as hospitals and municipalities needed shelters for outdoor COVID-19 testing sites and store owners needed to set up outdoor merchandising tents on the sidewalks in front of their shops.
E-Z UP's old eCommerce site was built on Magento Commerce 1 and experienced quite a bit of instability, which the company was eager to address. The company needed a stable site that would be compatible with its inventory management system in Magento and allow them to effectively manage their custom products and pricing.
More concerning to E-Z UP, however, was the number of online shoppers who were confused by the pricing schemes of its shelters. Based on the product images currently displayed on the site, each shelter looked virtually identical, so it caused vast misunderstanding among online shoppers as to why it appeared one product could be dramatically more expensive than the other when they were unclear of the difference. The confusion resulted in numerous calls to customer service. It all made sense once customers understood the different custom options available to them, but the accumulation of calls and explanations caused higher overhead costs and slowed down sales. To improve the overall process and price transparency for customers, it was important for E-Z UP to create a better customer experience on its online store.
Site Migration
E-Z UP's eCommerce site migration from Magento Commerce to Magento Cloud provided more site stability, while enabling the company to meet its customized requirements and continue to use its Magento inventory management system.
Product Configurator
Customers can easily assemble an ideal shelter system that meets their needs on the site with custom options such as color, size, and material and clearly see the impact of their selections and upgrade choices on the total price.
Cross-Selling & Lookbook
The site's product structure was redesigned so that every product page contains clear pricing for configurable options in addition to promoting other products E-Z UP offers through additional custom accessory sections. Customers could also click directly on items they want to buy from a shoppable gallery.
E-Z Up takes pride in what it calls the E-Z Up Experience – fast and easy assembly of its shelter experience. Thanks to its new site, visitors to its ecommerce store now enjoy the E-Z up experience when they shop for shelters: ability to see which shelter is right for them, and complete transparency into the cost.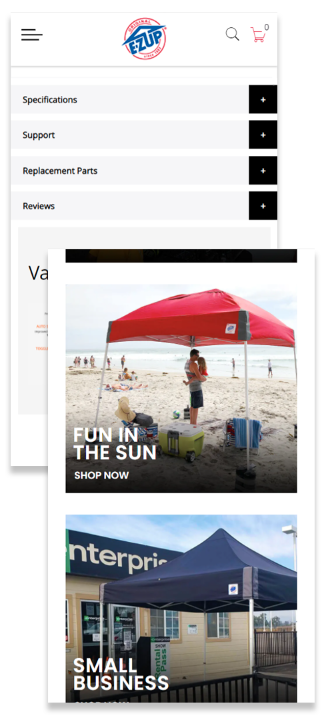 The first step was to migrate E-Z UP's site from Magento Commerce to Magento Cloud. The Silk team built the site on Magento Cloud while ensuring compatibility with the company's existing Magento inventory management system. With the key goal of educating customers on the various product options that affect the cost of an order, the entire site and product structure was redesigned. All product pages now clearly explain different options, such as fabric quality, shelter configuration, and other premiums, enabling visitors to know why one version of the product costs more than another and how each selection affects the price. Additionally, each product page has a custom accessory page to showcase additional products that work with the shelter, including light systems, chairs, clips, gear runners, and so on.
A highlight of the redesign is the custom product configurator, which allows site visitors to select a shelter, include all the accessories that will make it fully functional to their needs, and receive an accurate price in real-time. Price transparency to customers were made very clear, so that they could see any additional charges on top of the base product and be more informed of the differences between various product options.
E-Z UP's ancillary items were not selling at the same rate as its shelters, which lowered the company's average order value. Previously, with these ancillary products sold only on separate product pages, it was difficult for customers to see that they may need, say, a lighting system with a particular shelter, and that they could also purchase it directly from E-Z UP. E-Z UP wanted its customers to know that it offered turnkey shelter systems and they could purchase all the elements at the same time they purchase a tent. By adding a custom accessory section below the product options, it became easier for E-Z UP to cross-sell and promote additional products to its customers on the same page. To showcase the whole E-Z UP experience, Silk also helped the company create a lookbook, where users see examples of the items in use, and can click on those parts where the product is shown in the image to be instantly taken to their product pages for purchasing.
Improvements in site performance, customer experience, and stability were apparent from day one, as E-Z UP received positive feedback and noticed improved site stability the very day the site was launched. The company is particularly pleased with the overall user experience, especially now that calls to the company regarding customers confused about pricing have ceased and the team can now better focus its time on other customer needs. The combination of the product configurator, cross-selling opportunities with accessories that are fully integrated into the product pages, and the lookbook have all contributed to a higher AOV for E-Z UP.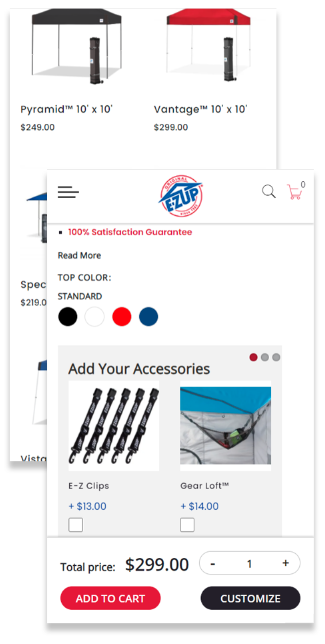 With a focus on price transparency, site visitors no longer need to contact E-Z Up's customer service center for an explanation of prices, and average order value has increased with the improved experience for customers to purchase more ancillary products.
Ready to take your business to the next level? Let's get started.