TireHub Successfully Launches eCommerce Site with Silk on the Magento Commerce 2 Platform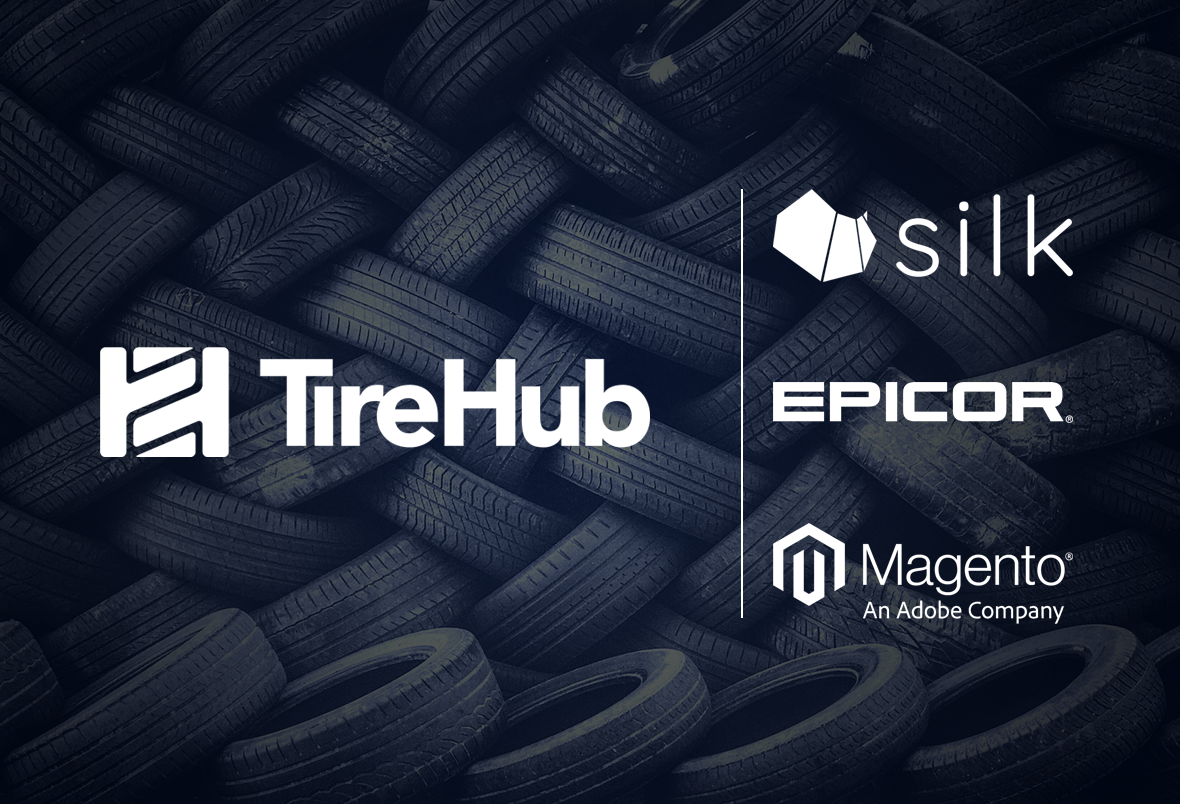 As a wholesale tire distributor, TireHub provides U.S. tire and automotive retailers and dealers with a full catalog of passenger and light truck tires from two of the world's leading tire businesses. Through collaborative efforts with Silk and Epicor to create an advanced eCommerce site capable of handling the custom and complex requirements of its distribution network, TireHub is now servicing customers nationwide.
Built on the Magento Commerce platform, the primary focus of the implementation was to deliver a solution capable of handling TireHub's complex back office procedures, intricate pricing logic, dispatch services, distribution networks, and large order volume. This initiative required strategic alignment between Silk, Epicor, and Magento to design and establish a scalable, integrated infrastructure across several systems. A tight integration with TireHub's Epicor system allowed orders to seamlessly flow to their distribution centers and incorporate into their standard business process.
"From customer service to product search to tire delivery, TireHub is set up to better serve tire dealers and retailers. Fulfilling the needs of our customers will always be our guiding compass," said Peter Gibbons, CEO, TireHub. "There is nothing more important to us than delivering an incredible customer experience so that our dealers and retailers have a tire distributor who makes business easy and increases their bottom line."
To support their personalized requirements, TireHub required a platform that could handle volume at scale, while also driving intricate end-user experiences. TireHub was able to utilize the powerful and flexible capabilities of Magento Commerce to build a unique customer experience for their end-buyers. From product search and ordering, to delivery tracking and payment, the latest web technology was needed to support their long list of unique customer offerings. Within the first few days of the site's launch, thousands of orders were received, marking a successful start to TireHub's latest web commerce initiative.
"From the outset, we recognized that the success of this project relied on a solution conceptualized and built by best-in-class resources across all areas of the architecture. Specialized teams within eCommerce, ERP, security, performance, environment infrastructure and overall systems integration were brought together in the same room with the same end-goal. Silk is proud to have contributed to the overall success of TireHub's new eCommerce store. That said, the overall success relied on the strategic alignment between Silk, Epicor, Magento, and TireHub – a partnership we are excited to continue for many years," said Dong Xu, CEO, Silk.
With a focus on providing superior services and faster turnaround times to ensure dealers and retailers can get access to the products they need quickly, TireHub continues to deliver a best-in-class customer experience through their industry leading eCommerce solution. Silk will continue to support TireHub's eCommerce endeavors as they continue to grow and service customers across the nation.